Britannia Coconut Dancers
Every Easter Saturday, no matter what the weather, the Britannia Coconut Dancers put on their blackened faces, fancy hats, red and white kilts and shiny black clogs and dance from the Travellers Rest to Bacup Town Centre.
You won't see anything else like this anywhere else in the world!
You can visit their site at www.coconutters.co.uk
Cheese-Making
Observe how Coulommier goats cheese is made, find out what equipment you need to make cheese at home in your own kitchen and taste some home-made goats cheese.Enjoy observing the cheese-making process at Tippett Farm for £15.00 per person per session (lasting approximately 2 hours). Price is for a minimum 2 people.Discounts available for larger groups – please contact us.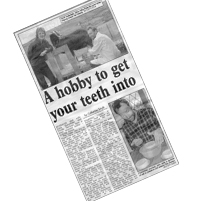 Cowpe Children's Playground
Families staying at Tippett Farm will be glad to hear that Cowpe Children's play area, with sections for both nursery and junior children, is just half a mile away from the front door.
The playground has been recently upgraded and has excellent safety surfaces.
Eating and Drinking
Local Pubs
The Jolly Sailor – Booth Road, Waterfoot, BB4 9DB, 01706 226340.
The Duke of Buccleuch 701 Bacup Rd, Waterfoot, Rossendale BB4 7HB,  01706 224399
Ye Olde Boot & Shoe Millar Barn Lane, Waterfoot, Rossendale BB4 7AU, 01706 213828
For a full list of pubs why not see Camra's website for Rossendale.
---
Local Restaurants
Dodah's Café Wine Bar – 103 Bank St, Rawtenstall, BB4 7QN, 01706 211011.
Fishermans Retreat – Turn-Cum-Shuttleworth, Nr.Ramsbottom, BL0 0HH, 01706 825314, www.fishermansretreat.com. Holds whisky tasting nights. Home reared beef and trout a speciality.
Mario's Italian Restaurant – 74 Market St, Bacup, OL13 0AT, 01706 879407.
Nila Indian Restaurant – 21 Bacup Road, Rawtenstall, Rossendale, 01706 219025.
Nino's Italian Restaurant – 245 Bacup Road, Rawtenstall, Rossendale, 01706 215868.
Rose n Bowl Restaurant and Bar – 264 Newchurch Road, Stacksteads, OL13 0UG, 01706 879555.
The Old Cobblers – New Hall Hey Road, Rawtenstall, BB4 6HR, 01706 211116. Pub fayre with "Wacky Warehouse" play area for children.
---
Takeaways
Hong Kong Chinese Takeaway – 46 Burnley Road, East Waterfoot, 01706 227388.
Indian Kitchen Takeaway – 43 Burnley Road, East Waterfoot, 01706 212626.
Tims Fish and Chip Shop – 604 Bacup Road, Waterfoot, 01706 219822.
---
Gourment Food Trail
There are a handful of really good up-market restaurants that we can recommend in the area:
Northcote Manor has delicious tasting menus and an excellent a la carte menu using local produce. 30 minutes drive from Tippett Farm
The Hungry Duck Ramsbottom – Modern British Cuisine serving regional specialities in independently owned bistro. 15 minutes drive from Tippett Farm
The Free Masons at Wiswell – On the Sunday Times Top 100 list and Ranked Number 42 in The Good Food Guide. 30 minutes drive from Tippett Farm
---
Good gastro pubs in the area:
The Three Fishes at Mitton – excellent range of meals using local produce. 30 minutes drive from Tippett Farm –
The Hearth of the Ram, Ramsbottom – awarded a Michelin Bib Gourmand Award in 2014. 15 minutes drive from Tippett Farm
The Eagle & Child, Ramsbottom –  Alex Shaw and his team are serving you the best locally sourced and seasonal Pennine foods using traditional recipes so you can experience the best in Lancashire pub grub and hospitality! You'll find our home-grown vegetables in some of our dishes and know that you are eating as locally as possible. 15 minutes drive from Tippett Farm
Farm visits
Cronkshaw Fold Farm
Alden Road, Helmshore, Rossendale, BB4 4AQ Telephone 01706 218614
A traditional West Pennine working hill farm providing education and fun for all the family. Educational visits for primary and secondary school children, open days, summer activities, children's birthday parties, family accommodation.
You can visit their site at www.cronkshaw.co.uk.
Fitzpatrick's Temperance Bar
During your stay why not visit Fitzpatrick's accredited Temperance Bar in Rawtenstall which has been making soft drinks for more than 100 years. One of which they are famous for is Fitzpatrick's Sarsaparilla.
5 Bank St, Rawtenstall, BB4 6QS Tel 01706 211152
Further Afield
Bashall Barn
Clitheroe, 01200 428964. www.bashallbarn.co.uk
Country produce, delicious farm produced ice-creams and a popular cafe.
Pendle Witch Trail
Pendle Witch Trail @ Visit Lancashire, www.witchesgalore.co.uk
Towneley Hall and Towneley Park
Burnley, BB11 3RQ. 01282 424213 (20 minutes drive from Rossendale)
Towneley Hall
Large park with walks, children's play area, historic house and art gallery. Feed the squirrels and ducks and later enjoy an ice-cream at the cafe.
Edisford Bridge
Clitheroe. Clitheroe Tourist Office – 0200 425566
Ideal for swimming and paddling. Miniature railway, children's play area and cafe. Buy a fishing net at the on-site shop and catch some tiddlers!
Exchange Coffee Company
24 Wellgate, Clitheroe, BB7 2DP. 01200 442270 and 13-15 Fleming Square, Blackburn, BB2 2DG. 01254 54258
Watch and smell your coffee being roasted on the premises. 30 coffees and 60 teas to choose from. Explore the shop and stop for a drink and something to eat in the Victorian coffee house.
Imax 3D Cinema Screen
Odeon Cinema, The Printworks, Manchester (35 minutes drive from Rossendale)
Moorhouses Brewery
www.moorhouses.co.uk, 01282 422864
Brewery tours for groups of 15-30 people.
For more information on Lancashire produce, visit:
www.madeinlancs.co.uk
For more information on Lancashire as a whole, visit:
www.visitlancashire.com
Helmshore Textile Museum
The textile museum is currently closed
Horse Riding
Peersclough Farm Picnic Ride
Local Peersclough Farm will organise a ride around the Mary Towneley Loop on their sturdy and friendly fell ponies alternatively they offer full day or ½ day picnic rides across the Rossendale Moors Peersclough Farm Peersclough Road Lumb Rossendale BB4 9NG Telephone: 01706 210552.
You can visit their site at www.peerscloughfarm.co.uk.
---
Dam Top Riding School
Off Fallbarn Road Rawtenstall BB4 7PZ Telephone: 01706 221024 (short rides 1-2 hrs)
Local Markets
Get the full Lancashire experience, and perhaps a bargain or two along the way, by visiting one of the markets local to Tippett Farm.
Rawtenstall Market
Held in Rossendale on Thursdays and Saturdays.
Ramsbottom Farmers Market
Held every second Sunday in the month at 10.00 am to 3:00 pm. Call 0161 253 1111 for more information – www.visitlancashire.com/food-and-drink/farmers-markets
Rossendale Farmers Market>
Held in Helmshore, Rossendale on the first Sunday of every month between 10.00 am and 3:00 pm – www.helmshorefarmersmarket.co.uk
Bury Market
Just fifteen minutes drive from Rossendale, every Wednesday, Friday and Saturday this market has been voted a top 10 UK food market – www.burymarket.com.
Mountain Biking
The Rossendale Valley has some of the best Mountain Biking territory in the UK. Mountain Bikers flock to Rossendale to experience the thrills and hills at Lee Quarry, Bacup and the newly formed link to Cragg Quarry at Cowpe.
Mountain Bikers can make a long weekend by staying at Tippett Farm self-catering which is approximately 2-3km from Lee quarry and Cragg Quarry. Facilities for Mountain Bikers at Tippett Farm include a secure bike store and a hosing down area. Both Lee Quarry and Cragg Quarry can be accessed from Tippett Farm self-catering without going on the main roads.
Rowan Sorrell and Ed Oxley feature the quality of mountain biking at Cragg Quarry on their short video describing it as a "cutting edge trail builder it's perfect" and ………… "it puts a grin on your face". Regular Mountain Biking events are staged at Lee Quarry , for more information visit the Brownbacks Racing website. For more information on Mountain Biking at Lee Quarry @ Bacup visit www.adrenaline-gateway.co.uk
Tippett Farm is also located right on the Mary Towneley Loop, a 45 mile circular route on some of the finest off-road mountain biking trails in the UK.
Other attractions
Whitworth Water Ski-ing
Cowm Reservior, Tong Lane, Whitworth, OL12 8BE. 01706 852534
Set in beautiful countryside, the centre boasts some of the best facilities for water ski-ing in the North West. The centre features a jump station, slalom, trick courses, jet bikes, water toys as well as full accessibility for disabled skiers.
---
Whittaker Park and Rossendale Museum
Haslingden Road, Rawenstall, BB4 6RE. 01706 224682
www.thewhitaker.org/
Check out the children's art and craft activities and have a look around the museum and park with it's excellent children's play area.
---
Trout Fishing at Cowpe Reservoir
---
Horse and Bamboo Theatre
Famous for it's annual puppet festival and many other creative events throughout the year The Horse and Bamboo theatre is located approximately 2 miles from Tippett Farm.
See Events page at www.horseandbamboo.org
---
Elgin Street, Bacup
Claimed to be the shortest street in the world!
---
Rossendale Bird Sighting
Check out Rossendale's Bird Sighting Forum at www.wildrossendale.co.uk
Shopping
Musbury Fabrics
Holcombe Road, Helmshore, BB4 4NP. www.musburyfabrics.co.uk
Textile and home furnishing millshop.
Winfields Store
Blackburn Road, Acre, Haslingden, Rossendale, BB4 5DD. www.winfieldsoutdoors.co.uk
Footware for all the family, homewares, camping and outdoor mega-store, designer label clothing, luggage and travel goods.
Barden Mill
www.pendlevillage.co.uk/home/, 01282 442424
(20 minutes drive from Rossendale), 50 departments in one store, packed with bargains
Boundary Mill
www.boundarymill.co.uk, 01282 865229
Colne (30 minutes drive from Rossendale)
Oswaldtwistle Mills Shopping Village
Oswaldtwistle, BB5 3DE, 01254 871025. www.o-mills.co.uk,
(20 minutes drive from Rossendale), 88,000 sq ft of retail shopping under one roof
Ski Rossendale
Ski Rossendale is a dry ski slope in Rawtenstall, not far from Tippett Farm cottage, that provides ski-ing, snow boarding and snow tubing.
Haslingden Old Road, Rawtenstall, BB4 8RR,
Speciality Black Pudding
Award winning black puddings from the Real Lancashire Black Pudding Co. Ltd (one of Rick Steins food heroes) are sold in butchers shops throughout Rossendale. The closest one to Tippett Farm is Trickett's Butchers, 719 Bacup Road, Waterfoot. Telephone: 01706 215261.
Walking in Rossendale
Well marked routes in the area include:
Grane Reservoir
Healey Dell Nature Trail – A splendid nature reserve walk
Over 20 walks are detailed in Rossendale Rambles by Ian Goldthorpe, which is available for use by guests at Tippett Farm. The OS Ref for Tippett Farm is SD834210.
For more information about walking in Rossendale you may like to visit the following websites:
Each year in September the Rural Rossendale group of accommodation providers organise Rossendale's annual foodie walking festival show-casing the best of Rossendale food producers in a range of foodie walks ranging from 2 miles to 12 miles. Visit: Rural Rossendale for more information. The Rural Rossendale Foodie Walking Festival is now part of the South Pennines Walk and Ride Festival http://www.walkandridefestival.co.uk/
www.walkingworld.com – From home page click on 'Find a Walk' and enter 'Rossendale' in the search box.
www.valleyofstone.org.uk – A calendar of walks promoting Rossendale's rich quarrying heritage.